17 Aug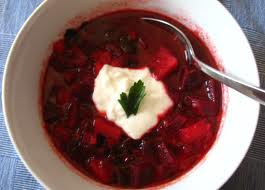 I know what you're thinking: "Borscht? Isn't that made with beets? BLARGH!" If so, it's probably just because you've never had beets prepared well. The atrocities that are commonly committed against beets have conspired to make multiple generations of Americans despise them, and understandably so. Oh believe me, I was one of the haters. My loathing of beets was so deep and profound that when I was given the opportunity to travel to Russia as a teenager in the 90s, my fear of having to eat beets was one of my top concerns, surpassing all of the following: fear of being in a country without speaking the language, fear of flying for 20 hours, fear of being separated from my family for the longest period of time so far, fear of visiting our notorious Cold War enemy, and fear of living with another family that I'd never met. Mind you, while I was there I learned how stupid that was, not just because beets are actually awesome if you know what to do with them, but because obviously there were plenty more valid things to be terrified about in post-Soviet Russia than my naive adolescent mind could ever have fathomed prior to my travels there. Of course there were also equally as many things to be moved and amazed by as well. Which brings me to …
A brief back story for the interested (all others, feel free to skip to the recipe)
So, back in 1993 I was part of a group of teenage students who participated in an exchange program to Russia about one year after the dissolution of the Soviet Union.We stayed in a town called Izhevsk, and at the time that we visited, Izhevsk had been closed to foreign travel for 70 years due to its strategic importance to the USSR (there was a huge munitions plant located there). Hence, when we arrived, we were the first non-Russians that most of Izhevsk's people had ever seen. Which may seem like a trivial detail, but let me explain what that translated to: Our presence there was such a marvel that our agenda was published in newspapers and on TV every day. What that resulted in was that everywhere we 15 adolescent Americans went, we were met with an ever-growing crowd of passionate Russian youths who saw us as harbingers of progress. I could go on and on here about the people I met, the gifts I was given, the lessons I learned, the heartbreak I experienced (these new friends of ours had some tough political times ahead of them, the likes of which few US citizens I know have ever had to face –  plus we were all fairly new to the concept of suffering and injustice and economic hardship. Not to mention, most of these new friends we would never see again). But I shan't go on about that. If you want to know more, email me and I'll share. What I will say is that the group I was part of was a brave, sensitive, intelligent and talented group, and yet, as we prepared for our travels, we had NO idea what was in store for us. And that being the case, with all of us being teenagers, and  with all of us hating beets, we took it upon ourselves to learn one essential Russian phrase, so universal to us it instantaneously reached permanent inside joke status: Nyet svekla. Translation: "No beets." The one who conceived and coined the phrase will forever hold a place in my heart for her comic wit, resourcefulness and candor.
That said (and I think she'd agree), looking back on the scenario and knowing what I know now, I can't imagine ever saying something like this to someone from Russia. But from the perspective of my teenage self, the concept seemed sheer genius and hilarity. When we did utter it to Russians, we were met with a quizzical furrow of the brow that was probably akin to how Americans would respond if a generally non-English speaking Russian teen were to enthusiastically proclaim "Decline potato!" – a reaction which would be a mixture of equal parts "Um, what?" and "Really? Why?"
In any case, "nyet svekla" being our eminently confident attitude, you can imagine our astonishment when we were unwittingly fed a mysterious, unbelievably delicious pink soup and then later learned it was the dreaded borsht, aka beet soup, we'd feared so much. How could this be?!?! For starters, we'd made it very clear – we wanted NO SVEKLA. But more than that, how could svekla be so damn tasty? Mmmmm. What else is in it? Can I get the recipe? And the people I'd baffled with my broken Russian, unnatural aversion to beets and weird American clothes were filled with glee.
Although the following is not the original Russian recipe, it is the closest one I've found to the soup I was first fed that made me such a pro-svekla devotee. So please give it a chance – I think you'll be glad you did.
Russian Borscht
1 c. potato, thinly sliced
1 c. beets, thinly sliced
4 – 6 c. water (to your desired soupiness/thickness)
1 – 2 tbsp olive oil or butter
2 c. onion
1 tsp caraway seeds
1 stalk celery, chopped
1 carrot, sliced
3 c. shredded cabbage (a little less than half a head)
1 tsp fresh dill (plus extra for garnish)
1 – 2 tbsp cider vinegar
1- 2 tbs honey
1 c. tomato paste
Salt and pepper to taste
Sour cream and dill for garnish
In a large sauce pan, place potatoes, beets and water and cook over medium heat until tender (~20 – 30 minutes).
Meanwhile, melt the oil/butter in a Dutch oven on medium heat. Add onion, caraway seeds and salt. Cook, stirring regularly, until onions are translucent (~8 – 10 minutes).
Add celery, carrots and cabbage, plus ~2 cups of the cooking water from the potatoes and beets. Cover and cook over medium heat until the vegetables are tender (~10 minutes).
Add the remaining ingredients (including all the potato and beet water), cover and simmer for 15 – 30 minutes more. Taste to correct seasonings. Serve hot with a dollop of sour cream and dill to taste.